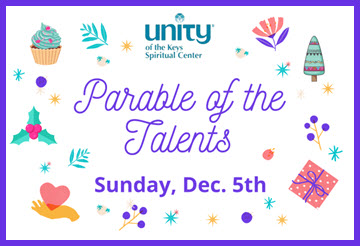 The essential message of the Parable of Talents, as described in the book of Matthew, tells us that we are to be people of increase; that we are to bless our world with whatever gifts and talents have been our good fortune to possess. They are ours, but they do not belong to us. All good comes from Source, from God, and is to be shared for the good of all. With this message as our foundation, the Parable of the Talents program is a unique opportunity for each of us to share our gifts.
It's that time of year again!! The congregation at Unity of the Keys Spiritual Center looks forward to this exciting, creative, enjoyable and just plain fun event. Each year we ask ourselves, "What can I create this year to sell?" "How can I take my talents and use them for goods or services that will bless my friends?" "What is something I have thought about doing or making, but not set aside the time or money to do?" And then we start creating! We look within ourselves and allow Spirit to guide us in expressing ourselves in the manifest world. It all comes into full expression on the day of the Sale, when we have the opportunity to share our creations and to joyfully go shopping!
STEPS:
1.  Ponder, Think, Meditate upon a Divine Idea: What would YOU like to create to place for sale at the Parable of the Talents Sale and Fair on Sunday, December 5th.
2. Consider the amount of money you might need for your supplies. Any dollar amount from $10.00 to $50.00. Janet Smith, our Champion for Parable Dollars, will give you what you request on October 31 or after.
3. Create! Use the Parable Dollars to purchase what you need to paint, create, bake, sculpt, etc. or to create gift certificates for services you are going to offer such as housecleaning services, computer advice, handy-man (or woman) services, for example.
4. When you receive your Parable Dollars from Janet Smith, you will also receive a sheet of directions for preparing your "talents" for pricing.
5. Bring your items in either on Thursday, Dec 2nd between 9 am – 1 pm, or Sunday, Dec 5th at 10:00 a.m. Items can be taken directly to Fellowship Hall.
6. Invite friends, family, and complete strangers to our Talent Sale and Fair, held Sunday, December 5th in Fellowship Hall following the service, at approximately 12:15.
7. Shop! Purchase gifts for Christmas, birthdays, anniversaries, or "just because."
8. Have fun and enjoy!!