Thank you for being a part of our Unity of the Keys Zoom gathering and celebration.  This guide is intended to provide some tips on making your participation as smooth as possible.  If you are a seasoned Zoom presenter, consider these basic pointers a refresher and feel free to use the skills that you are comfortable with.
At Unity of the Keys we have members of the congregation that join us on Sundays through Zoom as well as in person at our church.  Consequently, when joining our Zoom meeting you may see other Zoom visitors and you will also see a view of the congregation in our sanctuary.  Additionally, when you give your presentation or lesson, we will be displaying your Zoom video on our main monitor in the sanctuary and playing your audio through our sound system.
Below are some tips for guest speakers.
Prior to our live gathering
♦ ZOOM:    A Zoom account is not required if you are strictly joining our Zoom Meeting as a participant. However, you will need to download the Zoom Client software if you have not previously done so.  To download the software or to join our meeting for a sound check of for the Sunday service, click on the link below or copy and paste the URL into a browser.   If you have not yet installed the Zoom Client software, you will be prompted to do so.  Once the Zoom applications open up, enter the Passcode shown below:
https://us02web.zoom.us/j/5515511024?pwd=cWQ0T1AyTHJ6MmRIeGoxd3Y0US9rUT09
Passcode: unitynow
For an example of how this works, please see the short video found HERE.
Note that you will need to join our Zoom service with the Zoom Client software that is downloaded.  Please do not Join from your Browser.
Advanced Tip:
If you have previously downloaded the Zoom Client, it is best to check for updates before your presentation.  Please watch the video on the webpage shown HERE and make sure you have the most current version installed on your computer.
♦ INTERNET  CONNECTION:  Most Internet connections today are fast enough to work well with Zoom.  However, if you will be presenting it's a good idea to check the speed of your Internet connection by going to the link HERE.  Then, click on "Run Speed Test."  Once your test is complete, please email the Mbps upload and Mbps download results to media@unityofthekeys.org .  We can then review your connection and let you know if we see any issues.

♦  AUDIO – LIVE MUSIC ONLY:  If you will be playing music as part of you presentation, there are some advanced setting in Zoom that you will need to adjust. The important changes in the Zoom Audio settings to make are; Uncheck the box that says " Automatically adjust microphone volume" and  check the box that says "Enable original Sound"  Additionally, while not mandatory, the quality of your music will be greatly enhanced if you are using a audio interface and microphone with your computer as opposed to just using your webcam microphone.  There are many online videos that address this like the one found HERE.    Also, newer versions of Zoom may have a different look than what you see in older videos.  As of October 2020 the advanced audio section looks like the image on the left and you will want check the blue box as shown.  NOTE:  Do not check the "High fidelity music mode" box unless you have a strong Internet signal and you are connected by ethernet cable only – not WiFi.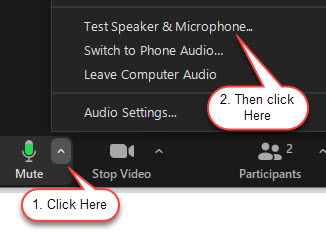 ♦  AUDIO AND VIDEO TEST:   By going to this URL:  https://zoom.us/test , you can test your video connection and the audio from your speakers and microphone prior to our Sunday service.  See the image on the left for steps on audio testing.
♦  SOUND CHECK:  We do a sound check prior to each service.  We'll send you instructions on how to participate in this.
We start our Silent Unity Prayer Service through Zoom at 10:30am.  You are welcome to join if you'd like.
Our Sunday Service starts at 11am.
♦  LOOK YOUR BEST:  Consider your lighting, background, apparel, etc. by watching the short video found HERE.
Joining the Service
♦ Sign into Zoom with our meeting link HERE
♦ Avoid bright light sources behind you. Front lighting lets us see you better.
♦ Silence personal devices.
♦ Mute your mic when you aren't speaking… but be sure to unmute prior to your presentation!
♦ At your cue, greet the congregation and proceed with your presentation.
♦ Try to speak to the camera on your computer and not the screen.
♦ Relax, enjoy yourself and know that you are loved!
If you have any questions, please feel free to email us at media@unityofthekeys.org .